Taphao beach
Koh Kood Karte einblenden

flights* =>

booking.com* => | agoda.com* =>



Thapho (Taphao) beach is a long and wild beach in the western middle part of Koh Kut. For a long time there have been only one resort there, specialized on Thai groups. And the beach was untouched and totally empty, a wonderful place to relax mind and soul.

Between the beachfront and the main road, hundreds of meters of land are covered with tousands of coconut palmtrees.

Since 2016 three new resorts have been built on the northern part of the beach, while the southern part is still empty and wild. Unfortunately they have cut a lot of palmtrees. The location will be developed further with shops and restaurants and other infrastructure.

At the northern tip of the beach, Shantaa Resort [show video] is located on a small hill side, offering great views over the sea. The luxury resort offers modern quality bungalows in a beautiful tropical garden setting and a very good panoramic restaurant. It also has a small private beach with a beach bar. Just the big concrete pier in front of the beach harms the paradise location a bit.

Beach accommodation at Thapho beach (link to agoda*):
Advise: Due to heavy waves and currents during rainy seasons, the middle part of the Thapho beach lost a lot of sand, so that the beach is very narrow right at the places, where Medee and Seafar Resorts are located.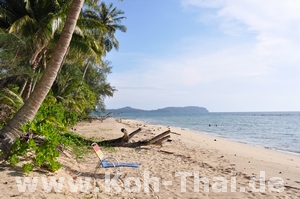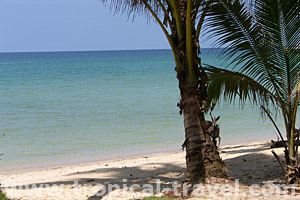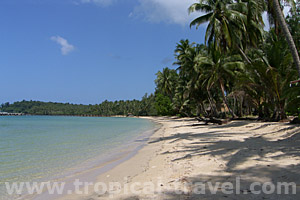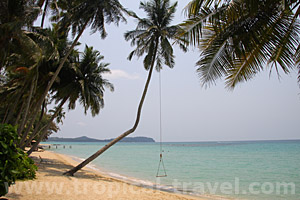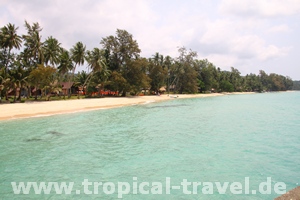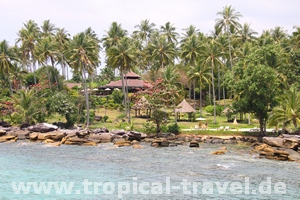 Koh Kut tropical-travel-photos