Koh Kut accommodation
Koh Kood Karte einblenden

flights* =>

booking.com* => | agoda.com* =>



Koh Kood offers small bungalow resorts. The prices per night are a little higher than on other islands. Some resorts are really hidden and away from it all. The best location and the most luxury resorts are on Klong Chao beach: Tinkerbell Resort, Wendy the Pool and High Season Resort. But there are also cheaper guesthouses and simple bungalow resorts available. Shantaa Resort is located north of Taphao Beach and offers high quality bungalows, a good restaurant and nice views. New on Thapho (Taphao) beach are Medee Resort and Seafar Resort. A stunning location is Ao Phrao Beach in the south. A secluded bay with a white sandy beach and hundreds of coconut palmtrees. There are only three small resorts, e.g.: Ao Phrao Beach Resort and Sunshine Resort. Other popular resorts are Baan Makok The Getaway, The Beach Natural Resort and Cham´s House Resort.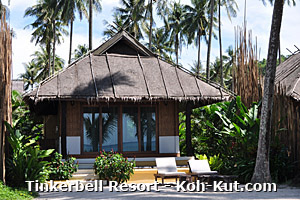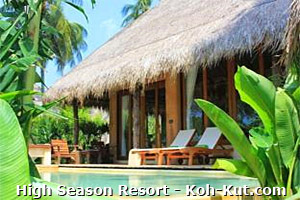 Koh Kood resort overview and my 1-10 rating depending on quality and location (2018) - booking links to agoda*:
| | | | |
| --- | --- | --- | --- |
| | A Na Lay Resort | simple bungalows on a rock; very small beach not directly at the resort | 6 points medium |
| | Ao Noi Resort | family owned resort under palmtrees, popular for Thai groups, great beach, simple bungalows, good restaurant | 6 points medium |
| | Ao Phrao The Sunshine Resort | nice bungalow resort at the end of Ao Phrao beach; great location, very good restaurant | 7 points good |
| | Tolani Resort | modern luxury bungalows at a small strip of beach on the end of Klong Chao river; very good restaurant | 7 points good |
| | Ban Klong Jao | simple wooden bungalows at Klong Chao riverside, nice unexpensive restaurant | 7 points good |
| | Bann Makok Resort | simple but good bungalows riverside in lush greenery; no beach | 7 points good |
| | Captain Hook Resort | comfortable modern bungalows on a rock with nice restaurant; beach on the other side of the river | 7 points good |
| | Cham´s House Resort | comfortable stone bungalows on remote Ao Thian beach, small pool and beachfront restaurant; hideaway location | 6 points medium |
| | Dusita Resort | nice bungalows in a proper garden directly at the beachfront | 7 points good |
| | Eve House | very simple bungalows near the main road; roadside restaurant | 6 points medium |
| | High Season Resort | superb spacious pool villas and bungalows with stunning design, superb pool and beachfront location under palmtrees | 10 points superb |
| | Hindard Resort | simple bungalows, not much taken care of | 5 points medium |
| | I-Lay House | direct beachfront small wooden bungalows with small but good restaurant, bungalows bit too narrow to eachother | 7 points good |
| | Klong Hin Resort | nice bungalow resort with choice of cheap and comfortable beachfront bungalows; nice beach and very good unexpensive beach restaurant | 7 points good |
| | Ko Kut Ao Phrao Resort | good bungalows in a nice tropical garden setting, wunderful location with great beach bar, bungalows need some improvement | 6 points medium |
| | Koh Kood Resort | good bungalows and nice bayfront restaurant at Siam bay; no beach | 7 points good |
| | Koh Kood Beach Resort | nice wooden design bungalows in a well kept garden setting, small but clean private sandy beach | 8 points very good |
| | Mark House | small but good two story houses for budget travellers at main road in Klong Chao; small but good restaurant, shop nearby | 6 points medium |
| | Medee Beach Resort | modern concrete bungalows at Thapho beach under palmtrees; good beachfront restaurant | 7 points good |
| | Neverland Beach Resort | hideaway location with simple bungalows, quite good restaurant and shady beachfront bar; garden not taken care of | 6 points medium |
| | Paradise Beach Resort | modern bungalows, nice pool and good restaurant at Thapho beach on a swampy ara; did cut all palmtrees for the resort | 7 points good |
| | Peter Pan Resort | good bungalows and rooms between Klong Chao river and beach; big restaurant and very nice beach bar, excellent location | 7 points good |
| | Seafar Beach Resort | modern bungalows in a row, very narrow, small beachfront with disappearing beach; good restaurant | 7 points good |
| | Shantaa Resort | very nice location with modern comfortable bungalows in a wonderful tropical garden setting on a hillside; excellent panorama restaurant | 8 points very good |
| | Soneva Kiri Resort | high end luxury spacious and natural designed bungalows and villas in a private jungle setting with stunning private beach | no rating, extraordinary |
| | The Beach Natural Resort | modern and very comfortable bungalows in a nice beachfront location at Siam bay; good restaurant, very small private beach | 8 points very good |
| | Tinkerbell Resort | beautiful and lovely small resort with excellent location; wunderful beachfront bungalows and garden pool villas; small restaurant and bar | 9 points excellent |
| | Wendy the Pool | bungalow resort with a big central pool at very good beachfront location; excellent rsaurant | 8 points very good |
Koh Kut tropical-travel-photos