Ao Phrao (Coconut) beach
show map


flights* =>

booking.com* => | agoda.com* =>



Ao Phrao (Coconut bay) ist a real paradise location in Thailand. The two km long white sandy beach ist empty, clean and beautiful. Thousands of coconut palmtrees cover the area behind the beach and hills surround the bay, which is located in the far southwest of Koh Kood.

The place is still and peaceful. There is not much to do but kajaking or walking along the beach. Swimming and bathing is excellent in the sea since the resorts offer no pools. Renting a motorbike should be a good idea to discover the island from the south.

The small resorts along the beach are family owned and rather simple than luxury. They offer a lot of space and good restaurants. A stay there means to be near to the nature of the jungle island with no luxury at all.

The best resort is The Sunshine Resort. I-Lay House only offers some very small bungalows directly beachfront with a small but good simple restaurant at the beach. The bungalows of Ao Phrao Resort are a little bit old now, but the resorts garden and location are very beautiful.

Beach accommodation at Ao Phrao beach (link to agoda*):
Since the Ao Phrao beach is very far in the south, no speedboat is heading there to let guests out. Guests should get off the speedboat at Siam Bay (Bang Bao) and will be picked up by taxi from the resorts at Ao Phrao.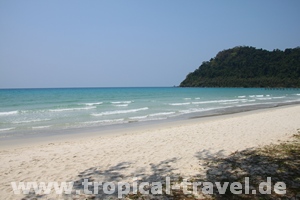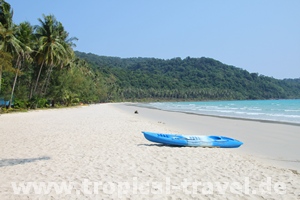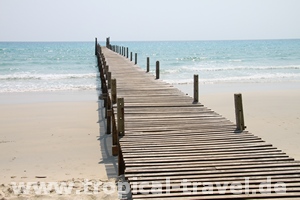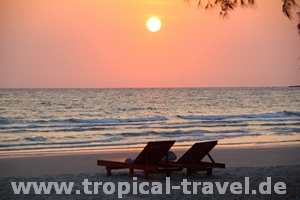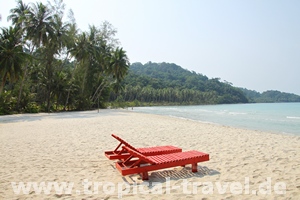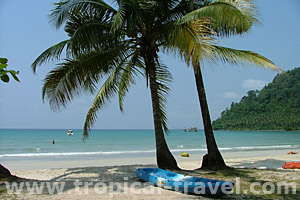 Koh Kut tropical-travel-photos