Getting to Ngapali beach
Ngapali video --- gallery --- exchange rate

show Ngapali map --- find a flight --- show calendar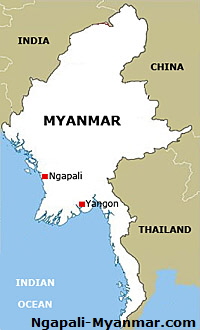 It is a one hour flight from Yangon (Rangoon) to Thandwe/Ngapali with a 120 seated turboprop airplane. National airlines like Asian Wings, Air Bagan, Air Mandalay, Yangon Airways or KBZ Air offer daily flights for this distance. Flight tickets can be bought and printed online.
The small airport of Thandwe/Ngapali, which had been enlarged 2010, is located directly at the sea, about six kilometers north of the main beach. It is a very small airport, that is closed between flights. Nearly all hotels of the region have service counters in the arrival hall, where they pick up their guests.
Till today there are no direct flights from Europe to Yangon. Myanmar can be reached from Bangkok, Kuala Lumpur, Singapore or Ho Chi Minh City by airlines like Airasia, Bangkokair, Vietnam Airlines, Jetstar, Silkair or MAI.
As soon as there will be direct flights, Ngapali could be reached very easy and quick, and when the airplanes to Ngapali will be bigger, the flight time may reduce to 30 to 45 minutes.
In Sihanoukville there are several options for spending one or more nights along Serendipity Road, hotels and a good number of cheap backpacker guesthouses and hostels. Good recommendable hotels near to the pier and beach are (link to agoda*):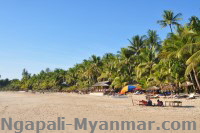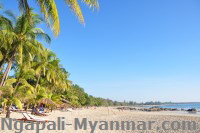 So it can be foreseen, that the huge potential of this holiday region will attract more and more tourists and the travel to Ngapali will be faster and more comfortable in the future. Ngapali then will be a real competition to other destinations in sout east asia like Koh Samui or Phuket.
Visa
Regulations might have changed due to Corona !
Before Corona: For an up to 28 days stay in Myanmar, a tourist visa is required. This can be bought at any embassy of Myanmar or, more comfortable, online, when arriving by flight at the airports of Yangon, Mandalay or Naypyitaw. The cost for the eVisa is 50 USD. For immigration to Myanmar only the email confirmation letter and the passport is needed, no further photos.
Since 1.10.2019 a new visa-on-arrival regulation is in force. Tourists from Germany, Italy, Switzerland, Spain, Russia, Australia, India and China can visit Myanmar by buying a visa on arrival when entering through the international airports of Yangon, Mandalay and Naypyidaw. It costs 50 USD.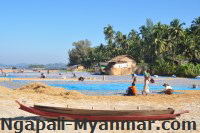 Weather and climate
The climate in Ngapali is tropical monsoon climate with a dry and sunny period from November to April and a rainy season from May to October. The best traveling time is from November till March, since April can be very hot up to 38 degrees celsius. From December till February it can be cool at night and in the morning, so that a shirt or a thin jacket is a good advise.


Infos:
time zone: GMT plus 6,5 hours
mobile phone: Myanmar Sim-Card from MPT works only in Myanmars; no overseas als or SMS possible
electricity: 220 Volt with US-plug; Europlug works without add. adapter plug
wifi: not yet everywhere available
vaccination: not mandatory - changes by Corona possible !
ATM and banks: small banks; several ATM machines in Ngapali along the beach road
medical care: none in Ngapali
Ngapali tropical-travel-photos