Getting to Koh Rong
Koh Rong video --- Photos --- exchange rates

show Koh Rong map --- find a flight --- calendar

book with agoda.com* --- book with booking.com*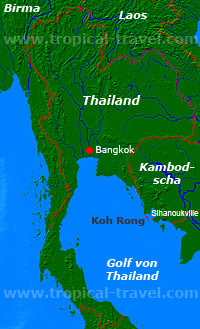 Koh Rong island lays appr. 20 km northwest of the city of Sihanoukville (Kampong Som). From Serendipity pier speedboats leaves each day to Koh Tui on Koh Rong and to Saracen Bay on Koh Rong Samloem at 8.30 and 11.00 a.m. and 2.30 p.m. The transfer is about 40 minutes and by far faster then in earlier days, when only slow boats made the passage. The boat agencies Koh Rong office and Koh Rong dive shop can be found in Serendipity Road nearby the lions circle (). Also Monkey Republic in the same road sells tickets to Tui Beach. The return ticket costs 30 USD (retour). Retour is scheduled at 9.30 a.m., noon and 4.30 p.m.
There is a speedboat connection between Tui Beach and Saracen Bay on Samloem as well. It starts from Saracen Bay at 10.00 a.m. and 11.00 a.m. from Tui Beach. The one way ticket costs 10 Dollar.
The speedboats only service Tui Beach and Saracen Bay. The other beaches can only be reached by feet or by private longtail boats, what is individual and quite expensive. The trip to Sok San Village costs about 30 Dollars, to Palm Beach Resort 40 Dollars. Most bungalow resorts at other beaches offer own longtail boat transfers from and to Sihanoukville, which may last up to 3,5 hours.
From Tui Beach there is a jungle pathway to Sok San Beach, which takes about one hour to walk. Walking along Sok San Beach to the village, takes another two hours.
In Sihanoukville there are several options for spending one or more nights along Serendipity Road, hotels and a good number of cheap backpacker guesthouses and hostels. Good recommendable hotels near to the pier and beach are (link to agoda*):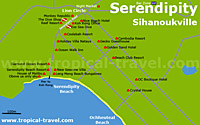 Sihanoukville can be reached from Phnom Penh or Siam Reap by bus, train or airplane. CambodiaAngkorAir offers daily flights for the short distance of 230 km from Phnom Penh and Siem Reap for low budget rates, for which cars and buses need appr. 4,5 hours. Buses and Minibuses (mini vans) offer transport all day long in both directions and cost between 4 and 10 Dollars. If you like to book the ticket and seat in advance online, we recommend the modern mini buses of Giant Ibis (pick up from the hotel included). If you like to go more individual and flexibel, taxis will like to do the drive for about 40-60 Dollars. But they are also depending on the street and traffic situation along the crowded two lane highway.
[no garantie for prices and times]
Phnom Penh and Siam Reap can be reached by plane from e.g. Singapore, Ho Chi Minh City or Bangkok with AirAsia.
Visa
Regulations might have changed due to Corona !
Before Corona: To enter Cambodia, there is a need for a visa for tourists. This can be bought on arrival at the airports of Siam Reap or Phnom Penh or before traveling as an e-visa online. It is valid three months from admittance day and makes a 30 day visit possible (no reentry). It costs 30 USD. For getting the e-visa, please visit www.evisa.gov.kh. The passport must be valid more than six months after end of visa validity. There is a need for one pass photo. In case of using visa on arrival, the visa formulars will be presented in the plane before arriving and should be filled out before arriving at the immigrations. The e-visa costs 36 USD but has the advantage not to stand in line for applying visa-on-arrival and one do not need an additional pass photo at the immigration.
It is advisable to always get the newest information about visa regulations due to changes, esp. if you plan to enter Cambodia by land borders or by Mekong boats from Vietnam.
Weather and climate
From December to March the weather is mostly sunny and warm. This is the best traveling time. In December and January the temperatures can fall down under 20 degrees Celsius by early morning, so a light jacket or long armed shirt can be good to have. In April and May it is very hot, temperatures may rise above 35 degrees. End of May the rainy season starts and normally lasts till mid of November. But this does not mean, that it rains without breaks. There maybe sunny and nice days or strong and heavy rain showers appear only in the afternoon hours. If the sun is hidden behind big clouds, the temperatures normaly are more comfortable.


Infos:
time zone: GMT plus 7 hours
mobile phone: possible; recommandable: get a cambodian SIM card at the airport for 3 USD (2 Dollars charged)
electricity: 220 volt with US and Euro plug
wifi: not yet everywhere available
vaccination: not mandatory - changes due to Corona possible !
ATM and banks: no banks; no ATM machine on the islands
medical care: none on the islands
Koh Rong tropical-travel-photos